16 Mar 2020
"Know who you are. Know who you are not. Embrace both."

Powerful words stated by Claire Babineaux-Fontenot, J.D., CEO of Feeding America, former executive vice president at Walmart and kickoff keynote at the Women Lead 2020 conference. A joint conference between the College of Business and College of Law at the University of Nebraska–Lincoln themed "Claim Your Power" brought a full house to Nebraska Innovation Campus Friday, March 6.

"Claire's words will be with me forever. The whole event was the perfect combination of connecting with new and old friends, learning and inspiration," said attendee Karen Helmberger, client executive at Fiserv.
That was exactly the effect the two event organizers – Molly Brummond, '00 and '03, assistant dean for external relations and strategic initiatives for the College of Law, and Sheri Irwin-Gish, '03, executive director of communications, marketing and external relations at the College of Business – hoped Women Lead 2020 would have on attendees.

"Many women haven't had a lot of role models who look like themselves to experience how they navigate the profession. When you get into a profession and you are the only woman in the room you start to think, 'Maybe I don't belong here,' and you start believing that lie you tell yourself," Brummond said.

Speakers who shared their experiences included Nebraska Supreme Court Judge Hon. Stephanie Stacy, J.D., Lincoln Mayor Leirion Gaylor Baird and Katie Zulkoski, J.D., '05, attorney/lobbyist at Zulkoski Weber. Due to travel concerns surrounding COVID-19, former Washington Governor Hon. Christine Gregoire, J.D., and Microsoft executive DeLee Shoemaker presented their session through Zoom videochat with former U.S. Attorney for Nebraska Deb Gilg, J.D., '74 & '77, serving as moderator.

Michele Coleman Mayes, J.D., vice president, general counsel and secretary of the New York Public Library presented the closing keynote, "You Can't Change What You Can't See: Interrupting Bias." The former general counsel for Allstate Insurance and Colgate-Palmolive shared both her own experiences and the findings of a study she worked on, which surveyed lawyers at major firms. When considering compensation, hiring and promotions, the study found women experience adverse effects of bias in the workplace. Coleman Mays shared that everyone has biases that vary and the only way to overcome them is for all people involved to have a positive mindset.

"Every story I heard, whether from a presenter or colleague, reminded me that women are so uniquely adaptable," said Erin Schroeder, associate attorney at Smith Johnson Allen Connick & Hansen. "They all led inspiring conversations about making our way in a male-dominated industry, by working alongside and not against, our colleagues in camaraderie. It's obvious to me there is power in diversity and inclusion."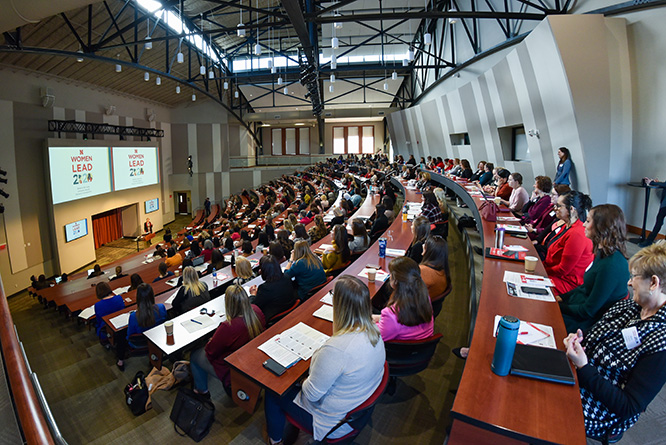 Brummond said the colleges plan to host another event in two years and she is excited to see how it grows in the future.

Irwin-Gish added, "Our plan was to fill Innovation Campus with those who support the advancement of women and bring together a diverse group of speakers who would help empower them. By those measurements, the conference was a success. The speakers were off the charts and we are thankful for our generous donors who helped make the event possible and the vendors who participated. We hope everyone who attended woke up Monday morning ready to claim their power in more defined, purposeful ways."



---


Attendees Respond to Women Lead 2020

The conference inspired me to embrace my weaknesses as well as my strengths. Leadership isn't just about what you do well, but how you encourage others to do well and how you're able to bring diverse groups together to the benefit of everyone.

- Katie Tyler, senior accountant, Garner Industries


The strategic and supportive intentionality behind this conference, especially in creating an opportunity today for people to gain, grow and apply their confidence for their future and OUR futures is what will help us advance women in leadership. YES! Thank you. Throughout the weekend, I found myself ruminating, referencing and recommending this conference in various situations. I'm already looking forward to the next one and hope to bring more of my team.

- Michaella Kumke, '03, community engagement director, Food Bank of Lincoln


It has provided validation to my efforts to be a mentor to younger professional and high school women, and reinvigorated my efforts to be a better manager at my company.

- Ann Diers, vice president and associate general counsel, Ameritas


It inspired me by outlining concrete actions I can start taking today to claim my power for a rewarding and successful career.

- Paige Gade, '18, attorney, Rembolt Kudtke LLP


The conference has impacted me in teaching me ways to overcome some of my fears and be a more effective leader.

- Stephany Pleasant-Manes, '17, staff attorney, University of Nebraska–Lincoln


No one gets to a place of success professionally without a supportive network. It's so important to work on fostering relationships before you really need to lean on those relationships. The conference was also a good reminder to be thoughtful about your personal brand and how others perceive you. We all have a brand whether it is intentional or unintentional. Be purposeful.

- Stephanie Dinger, '03, vice president of small business, Union Bank & Trust
---

Women Lead 2020 was a partnership between the University of Nebraska-Lincoln College of Business and the College of Law.