Blankley Presents on Transitioning Mediation Online
21 Apr 2020
P
rofessor Kristen Blankley presented a free webinar on April 17, 2020 to mediators through the Nebraska Mediation Association on how to transition a mediation practice online. The webinar featured practical tips and covered ethical considerations of online practice.
Brummond Selected for Women Lawyers Journal Editorial Board
07 Apr 2020
Assistant Dean Molly Brummond, '03, has been selected to serve on the editorial board of the Women Lawyers Journal (WLJ), a quarterly publication of the National Association of Women Lawyers.
WLJ provides a forum for the exchange of ideas and information for NAWL members. The publication also serves as a catalyst for collaboration and coalition for women lawyers across the country and around the world. The editorial board is comprised of 13 women from around the country that represent law firms, businesses, government and academia.
As the assistant dean for external relations and strategic initiatives, Brummond oversees Nebraska Law's admissions efforts, alumni relations, student organizations and professional skills development opportunities for both students and alumni. In early 2020, Brummond was honored with the Chancellor's Outstanding Contribution to Women Award.
Berger's Article Accepted for Publication in William & Mary Law Review
02 Apr 2020
Professor Eric Berger has accepted an offer to publish his article Courts, Culture, and the Lethal Injection Stalemate with the William & Mary Law Review. The article will be published in Fall 2020.
The article's abstract appears below:
The Supreme Court's 2019 decision in Bucklew v. Precy the reiterated the Court's great deference to states in Eighth Amendment lethal injection cases. The takeaway is that when it comes to execution protocols, states can do what they want. Except they can't. Notwithstanding courts' deference, executions have ground to a halt in numerous states, often due to lethal injection problems. The Court's conservative Justices have blamed this development on "anti-death penalty activists" waging "guerilla warfare" on capital punishment. In reality, though, a variety of mostly uncoordinated actors motivated by a range of distinct norms has contributed to states' lethal injection woes. These actors, such as doctors, pharmaceutical companies, and institutional investors, follow their own professional incentives, usually unrelated to the morality of capital punishment.
States' recent execution difficulties raise important questions about the future of the Eighth Amendment and the American death penalty. As certain lethal injection protocols and executions themselves become less common, future courts might reconsider their deference in this area. The Eighth Amendment, after all, encompasses "evolving standards of decency," which courts often measure with reference to changing state practices. Though constitutional doctrine has played only a bit part in the execution decline, that decline could eventually reshape constitutional doctrine.
This story also complicates long-accepted constitutional theories. While the traditional view is that federalism maximizes state policy choices so long as courts and Congress do not interfere, the lethal injection stalemate shows how non-governmental actors, even uncoordinated ones, can undermine state policies. Courts and the political branches in some states stand united in support of capital punishment. It is therefore noteworthy that unorganized actors pursuing their own institutional objectives have obstructed executions and even cast new long-term doubt on previously entrenched penological practices.
Thimmesch's Article Published in Temple Law Review
17 Mar 2020
Professor Adam Thimmesch's recent article, The Unified Dormant Commerce Clause has been published in the Temple Law Review.
The article traces the history of the Supreme Court's dormant Commerce Clause doctrine as it developed in tax and nontax matters. For decades, the Court has formally applied different tests for evaluating those different types of state laws, but the Court has never adequately explained or justified that bifurcated approach. The result has been a confused and shifting doctrine that creates significant uncertainty for states and taxpayers. The article explains how the Court's recent decisions in a series of tax cases have eroded what little distinction existed between the Court's disparate tests, with the result that the Court has effectively adopted a unified dormant Commerce Clause. The article argues that the Court should explicitly recognize a unified approach and explains the benefits that would flow to courts, states, and taxpayers.
Professor Thimmesch's research focuses on state and local tax matters, with a focus on the allocation of taxing power between the states and between the states and the federal government.
Women Lead 2020 Draws Sell Out Crowd
16 Mar 2020
"Know who you are. Know who you are not. Embrace both."

Powerful words stated by Claire Babineaux-Fontenot, J.D., CEO of Feeding America, former executive vice president at Walmart and kickoff keynote at the Women Lead 2020 conference. A joint conference between the College of Business and College of Law at the University of Nebraska–Lincoln themed "Claim Your Power" brought a full house to Nebraska Innovation Campus Friday, March 6.

"Claire's words will be with me forever. The whole event was the perfect combination of connecting with new and old friends, learning and inspiration," said attendee Karen Helmberger, client executive at Fiserv.
That was exactly the effect the two event organizers – Molly Brummond, '00 and '03, assistant dean for external relations and strategic initiatives for the College of Law, and Sheri Irwin-Gish, '03, executive director of communications, marketing and external relations at the College of Business – hoped Women Lead 2020 would have on attendees.

"Many women haven't had a lot of role models who look like themselves to experience how they navigate the profession. When you get into a profession and you are the only woman in the room you start to think, 'Maybe I don't belong here,' and you start believing that lie you tell yourself," Brummond said.

Speakers who shared their experiences included Nebraska Supreme Court Judge Hon. Stephanie Stacy, J.D., Lincoln Mayor Leirion Gaylor Baird and Katie Zulkoski, J.D., '05, attorney/lobbyist at Zulkoski Weber. Due to travel concerns surrounding COVID-19, former Washington Governor Hon. Christine Gregoire, J.D., and Microsoft executive DeLee Shoemaker presented their session through Zoom videochat with former U.S. Attorney for Nebraska Deb Gilg, J.D., '74 & '77, serving as moderator.

Michele Coleman Mayes, J.D., vice president, general counsel and secretary of the New York Public Library presented the closing keynote, "You Can't Change What You Can't See: Interrupting Bias." The former general counsel for Allstate Insurance and Colgate-Palmolive shared both her own experiences and the findings of a study she worked on, which surveyed lawyers at major firms. When considering compensation, hiring and promotions, the study found women experience adverse effects of bias in the workplace. Coleman Mays shared that everyone has biases that vary and the only way to overcome them is for all people involved to have a positive mindset.

"Every story I heard, whether from a presenter or colleague, reminded me that women are so uniquely adaptable," said Erin Schroeder, associate attorney at Smith Johnson Allen Connick & Hansen. "They all led inspiring conversations about making our way in a male-dominated industry, by working alongside and not against, our colleagues in camaraderie. It's obvious to me there is power in diversity and inclusion."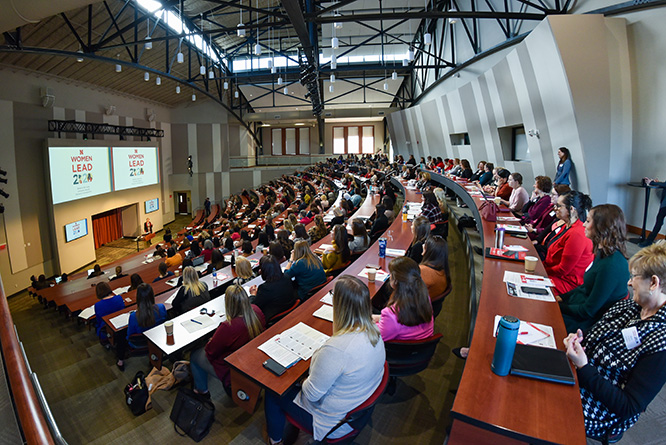 Brummond said the colleges plan to host another event in two years and she is excited to see how it grows in the future.

Irwin-Gish added, "Our plan was to fill Innovation Campus with those who support the advancement of women and bring together a diverse group of speakers who would help empower them. By those measurements, the conference was a success. The speakers were off the charts and we are thankful for our generous donors who helped make the event possible and the vendors who participated. We hope everyone who attended woke up Monday morning ready to claim their power in more defined, purposeful ways."



---


Attendees Respond to Women Lead 2020

The conference inspired me to embrace my weaknesses as well as my strengths. Leadership isn't just about what you do well, but how you encourage others to do well and how you're able to bring diverse groups together to the benefit of everyone.

- Katie Tyler, senior accountant, Garner Industries


The strategic and supportive intentionality behind this conference, especially in creating an opportunity today for people to gain, grow and apply their confidence for their future and OUR futures is what will help us advance women in leadership. YES! Thank you. Throughout the weekend, I found myself ruminating, referencing and recommending this conference in various situations. I'm already looking forward to the next one and hope to bring more of my team.

- Michaella Kumke, '03, community engagement director, Food Bank of Lincoln


It has provided validation to my efforts to be a mentor to younger professional and high school women, and reinvigorated my efforts to be a better manager at my company.

- Ann Diers, vice president and associate general counsel, Ameritas


It inspired me by outlining concrete actions I can start taking today to claim my power for a rewarding and successful career.

- Paige Gade, '18, attorney, Rembolt Kudtke LLP


The conference has impacted me in teaching me ways to overcome some of my fears and be a more effective leader.

- Stephany Pleasant-Manes, '17, staff attorney, University of Nebraska–Lincoln


No one gets to a place of success professionally without a supportive network. It's so important to work on fostering relationships before you really need to lean on those relationships. The conference was also a good reminder to be thoughtful about your personal brand and how others perceive you. We all have a brand whether it is intentional or unintentional. Be purposeful.

- Stephanie Dinger, '03, vice president of small business, Union Bank & Trust
---

Women Lead 2020 was a partnership between the University of Nebraska-Lincoln College of Business and the College of Law.



Brummond Honored for Outstanding Contributions to Women
13 Mar 2020
Molly Brummond, '03, has worn many hats over the course of her ten-year career at the University of Nebraska College of Law.
Communicator. Events organizer. Student life and alumni relations extraordinaire.
Closest to her heart, though, are the roles she's played in the education and development of women lawyers like herself.
"One of my great passions is the advancement of women in their careers — the law particularly, because I am a lawyer, and I've experienced the profession," said Brummond, who currently serves as the school's assistant dean for external relations and strategic initiatives. "It's a profession that was built for men. Obviously there has been a lot of change in that, but there's still a long way to go."
On March 12, Brummond was named the 2020 recipient of the Chancellor's Outstanding Contribution to Women Award. The annual honor recognizes a campus community member who has created a climate that encourages women to succeed at the University of Nebraska-Lincoln.
"I'm just so thrilled by it," Brummond said. "I feel super lucky that I get to work on something that I love so much and then be recognized for it. It's just sort of icing on the cake."
A 2003 alumna of Nebraska Law, Brummond has firsthand experience with the uphill battle women lawyers can face in their careers.
"What's happening is that women go into the practice of law at the same rate as men, generally — but if you look at how their careers progress, a lot of them opt out of the profession. A lot of that has to do with how demanding it is," Brummond said.
"I opted out when I had my first baby, because I just didn't want to live in a perpetual state of guilt. Guilt because I was working too much and not spending time with my baby, or guilt that I was spending too much time with my baby and not billing enough time. I don't think I'm alone in that. There are really fabulous women lawyers who navigate it and they make it work and they do it, but it's important to me that we figure out how to help more women stay in the profession."
With that understanding in mind, Brummond has made female empowerment in the law one of her central focuses at Nebraska — starting with the Women Leading in Law, Business and Philanthropy conference she organized in 2017.
"It was just a day of magic, and before that day was even over, people were coming up to me and saying, 'So what's next?' They just really loved it," Brummond said. "That conference served as my jumping off point and helped me start to think about what the college could do to support women lawyers. That's kind of how it all began."
This year, Brummond was the organizer of Women Lead 2020 — a conference on Nebraska Innovation Campus hosted in partnership with the College of Business. The interdisciplinary event, which encouraged women to "Claim Your Power," gathered a sold-out crowd of 325 participants.
"What we wanted to do is bring together women in law, business and philanthropy so that they meet each other that they know each other they can refer business to each other. That partnership with the College of Business is super important, because we really want to help women grow their professional networks," Brummond said.
Brummond has also started three new programs to support female lawyers in varying stages of their careers.
"After that conference where people were asking me 'What's next?', I developed a program for women at different stages of their career called New, Now, Next," Brummond said. "The New Associate Acceleration Academy is an academy that I run for new associates in their first couple of years of practice. It's designed to help women leaders who are really early in their careers succeed in the practice of law."
"The Now Leadership Cohort is for women who are mid-career, and they're beginning to really take on leadership roles. We talk a lot about leadership principles and how to navigate leadership situations. The Next Lunch Series is really more informal lunches that are addressed at women who are more advanced in their careers and are looking to make a change."
Reflecting back on her career at the university, Brummond is grateful for the opportunities she's been given to expand programming and make a difference.
"Not everybody gets to work on something that they are truly so passionate about," Brummond said.
Lenich Honored for Work with Students
11 Mar 2020
Student Affairs has named John Lenich, Earl Dunlap Distinguished Professor of Law Emeritus, one of two recipients of the James V. Griesen Exemplary Service to Students Award.
Lenich will be honored during the Student Luminary Awards on March 13. The annual honor was established in 1986 as the Chancellor's Exemplary Service to Students award and recognizes extraordinary and sustained performance by individuals serving Nebraska students. It was renamed in 2006 to honor Griesen, who retired as vice chancellor for student affairs that same year. He continued to work as a professor in educational administration and is now an emeritus professor.
Lenich earned the award for his enthusiasm and commitment to students through revisions to the Student Code of Conduct and the university's approved student housing agreement. He earned praise for his abilities to listen to students' needs and concerns, and help advocate on their behalf. ASUN student government passed a resolution thanking and commending Lenich for his work on the Student Code of Conduct in 2018.
"John always made me feel that the student voice mattered, and to him it did," said Jackson Grasz, former Interfraternity Council president. "I really appreciated his willingness to listen to members' concerns and do his best to make sure they were heard with all stakeholders involved."
Full story from University Communication: https://news.unl.edu/newsrooms/today/article/fitzwater-and-lenich-honored-for-work-with-students/
Immigration Clinic Students Host Citizenship/Naturalization Clinic
10 Mar 2020
On Feb. 29, students from the College of Law's Immigration Clinic conducted a Citizenship Clinic to assist individuals interested in self-filing applications to become citizens of the United States.
In total, 17 individuals were seen and assisted by volunteers during the clinic. In addition to Immigration Clinic students, 19 other law students assisted those applying to become citizens, as well as Professor Sara Houston and three students from Doane University's Law, Politics and Society program.
In preparation for the clinic, students created a publicity plan, created packets of materials for use at the event, recruited and trained volunteers, pre-screened applicants and orchestrated the process from start to finish. During the event, volunteers assisted applicants in filling out the appropriate forms, ran background checks to make certain there were no un-identified issues that might bear on an applicant's ability to naturalize, and gave them a "next steps" checklist to use when submitting their naturalization applications.
This is the first time the Immigration Clinic has hosted such an event. It was included in the College of Law "One Vital Topic: Immigration - One Nebraska Law" programming for the year. Plans to regularly sponsor or host similar events are underway.
Immigration Clinic students: Josh Baue, Sam Hawley, Sydney Hayes, Brig Jensen, Samantha Lowery, and Ella Newell.
Participating law students: Alejandra Ayotitla, Jayden Barth, Logen Bartz, Jena Black, Carly Burkhardt, Hannah Cook, Eric Davis, Alan Dugger, Nick Grandgenett, Lane Haskell, Wil Hupp, Emma Lindemeier, Natasha Naseem, Erin Olsen, Sarah O'Neill, Jordan Pitcher, Mauricio Murga Rios, Caroline Sojka, and Sara Tonjes.
Participating Doane University students: Kathleen Espenhover, Bailee Foster, and Jaden Hilkemann.
Deanna Lubken, Office Manager and Legal Assistant in the Clinical programs; Sydnee Schuyler, Legal Assistant and Immigration Clinic support; and Professor Kevin Ruser were also participated in the event.
Sullivan's Article Published in Iowa Law Review
10 Mar 2020
Professor Ryan Sullivan's article, Revitalizing Fourth Amendment Protections: A True Totality of the Circumstances Test in § 1983 Probable Cause Determinations, has been published in the Iowa Law Review.
The article analyzes claims of police misconduct and false arrest, specifically addressing the issue of whether a police officer may ignore evidence of an affirmative defense, such as self-defense, when determining probable cause for an arrest. The inquiry most often arises in § 1983 civil claims for false arrest where the officer was aware of some evidence a crime had been committed, but was also aware of facts indicating the suspect had an affirmative defense to the crime observed. In extreme cases, the affirmative defense at issue is actually self-defense in response to the officer's own unlawful conduct. As police brutality and false arrest claims rise, so too will the prevalence of this issue.
As the Director of the Civil Clinic, Sullivan supervises student attorneys providing legal services to veterans and underserved populations in the areas of tenant rights, debt collection defense, criminal record rehabilitation, estate planning, family law, and other civil matters.
Shoemaker's Article Published in the Journal of Law, Property, and Society
25 Feb 2020
Professor Jessica Shoemaker's article, An Introduction to American Indian Land Tenure: Mapping the Legal Landscape, has been published in the Journal of Law, Property, and Society.
The article provides an introduction to land-related legal issues facing tribal governments and Indigenous peoples in the United States and is intended to encourage deeper and more widespread engagement on these important topics. Forced property law reforms have been used throughout history as this country's primary tool for implementing its colonial objectives, and today unique property rules continue to apply in Indian country with complex effects—and, often without significant public or scholarly attention. The article seeks to help close this attention gap by providing an accessible introduction to important American Indian land tenure topics, including both the lessons of historic uses of property law in federal Indian policy and more modern reservation land tenure dynamics.
Shoemaker's research focuses at the intersection of property, law and community economic development, with particular attention to land use challenges on modern rural landscapes and Native American reservations in the United States. During the 2018-2019 academic year, Shoemaker served as the Fulbright Canada Research Chair in Aboriginal Legal and Resources Rights at the University of Alberta Faculty of Law in Edmonton, Canada.
Leiter to Serve as Judge for We the People National Finals
25 Feb 2020
Professor Richard Leiter has been selected as one of 72 judges for the 33rd Annual We the People National Finals, conducted by the Center for Civic Education, on April 24-27, 2020.
The National Finals competition, in the format of a simulated congressional hearing, involves high school classes from throughout the nation addressing historical, political, and constitutional issues before a panel of three judges acting as a congressional committee.
Leiter has served as a judge for the Nebraska competition for over a decade, however, 2020 will mark his first time as a national competition judge.
Leiter has been the director of the Schmid Law Library and Professor of Law at Nebraska since 2000. Leiter has written widely on law library, legal research, and legal information technology issues. His most recent book, National Survey of State Laws, is in its seventh edition.
Young, '90, Named to Arizona Commission on Access to Justice
19 Feb 2020
Anthony Young, '90, has been reappointed by Justice Robert Brutinel to serve on the Arizona Commission on Access to Justice.
The purpose of the Commission is to study and make recommendations on innovative ways of promoting access to justice for individuals who cannot afford legal counsel or who choose to represent themselves in civil cases. The Commission shall evaluate best practices within Arizona and other states, identifying possible changes in court rules or practice to reduce barriers to access, identify and encourage the adoption of best practices among legal service providers, and consider potential long-term funding options.
Young is the executive director of Southern Arizona Legal Aid.
Nebraska Law's Pro Bono Work Earns National Honors
14 Feb 2020
The University of Nebraska College of Law was recognized as a 2019 Pro Bono Leader for its dedication to pro bono work and participation in the American Bar Association's Free Legal Answers program. This marks the second time Nebraska Law has received this recognition; the College was also recognized as a 2018 Pro Bono Leader.
The ABA Standing Committee on Pro Bono and Public Service presents annual recognition to individual attorneys, law firms, and law departments that have provided extraordinary pro bono services through the ABA Free Legal Answers program. This program aims to ensure that individuals with low incomes receive the legal help they need.
As part of this virtual advice clinic, users post their civil legal questions to their state's website. Attorney volunteers who are authorized to provide pro bono assistance select questions to answer and provide legal information and advice.
The Pro Bono Leader distinction recognizes organizations that have collectively answered 75 or more questions during the calendar year.
The Nebraska College of Law answered 122 total questions last year. Professors Kristen Blankley, Kevin Ruser and Ryan Sullivan each participated in this initiative, as did a number of Nebraska Law students.
"Our students and faculty have demonstrated a dedication to our community through their participation in this program," said Dean Richard Moberly. "I am extremely proud that so many at the College of Law have chosen to humbly serve our state with integrity."
Professor Ryan Sullivan also received individual recognition as a Pro Bono Leader, by answering over 50 questions last year. In addition to dedicating his own time to answering questions, Professor Sullivan also supervised law students participating in this program.
Sullivan featured on The CAP·impact Podcast
10 Feb 2020
Professor Ryan Sullivan was featured on the January 17, 2020 episode of the CAP·impact podcast.
During "Episode 56: Stopping Shoplifting Shakedown Letters with Ryan Sullivan," Professor Sullivan discusses his work in the successful repeal of a Nebraska state law that allowed retailers to send letters to people they accused of shoplifting, demanding money from the accused, regardless of guilt.
Sullivan's law review article about the topic was published in 2016.
The CAP·impact podcast is a production of the blog, CAP·impact, and the Capital Center for Law & Policy at McGeorge School of Law. They strive to be a resource for better understanding and shaping law and policy.
Beard's Work on Woomera Manual Continues
06 Feb 2020
Professor Beard and Core Experts of the Woomera Manual met for the fourth plenary session/workshop of the drafting of the Woomera Manual at the University of New South Wales-Canberra, Australia.
Numerous states have now agreed to send their diplomatic and military representatives to a series of engagement sessions later this year in the Hague, Netherlands, to officially contribute their comments and views on the Woomera Manual.
The University of Nebraska College of Law is one of the four founding institutions and principal sponsors of the Woomera Manual Project. Professor Beard is a Core Expert, member of the Board of Directors, and an Editor of the Woomera Manual.
Pictured below: Professor Jack Beard addresses military leaders and diplomats at the Australia Defense Force Academy, Canberra, Australia, regarding work on the Woomera Manual on the International Law of Military Space Operations.
Medill Selected for Faculty Leadership Program
23 Jan 2020
Professor Colleen Medill is one of 25 University of Nebraska-Lincoln faculty members selected by the Executive Vice Chancellor's Office for the 2020 cohort of the Faculty Leadership in Academia: From Inspiration to Reality (FLAIR) program.
The FLAIR program provides professional development for University faculty who are considering a leadership role or are in their first leadership position and considering continuing on a leadership path. Participants will focus on learning about and preparing for potential leadership opportunities in campus administration, faculty governance, professional societies, research and academics.
Professor Medill is nationally recognized for her scholarship on federal employee benefits law and related public policy. Over the course of her career, she also has received numerous teaching awards. Most recently, in 2018, she received the University of Nebraska Outstanding Teaching and Instructional Creativity Award, which is the highest honor for teaching awarded by the University of Nebraska system.
Shavers Honored for Focus on Expanding Diversity, Inclusion
22 Jan 2020
Growing up in segregated Little Rock, Arkansas, Anna Shavers found lifelong inspiration in the marches and rallies of Martin Luther King Jr.
It was the last speech that King gave before he died, "I've Been to the Mountaintop," that left the deepest impression on her — one that would later motivate her to pursue a career in higher education and dedicate herself to the success of others.
"I've been reflecting on that ever since — about what it means to reach the mountaintop and see the promised land," said Shavers, acting dean of the University of Nebraska College of Law. "Martin Luther King Jr. has been a big influence in my life. He led me to believe that first of all, I can accomplish certain things — but then I can also help other people accomplish their dreams, as well."
In honor of her decades-long commitment to diversity and inclusion at Nebraska, Shavers was presented with the 2020 Chancellor's Fulfilling the Dream Award on Jan. 22. The annual award celebrates an individual who has contributed to the university or Lincoln community by promoting King's goals and vision.
"I was very excited to be nominated and selected for an award that really values working with students and helping them reach their goals," Shavers said. "To think that somebody thought I was deserving of this award, and to join the list of people that have received it in the past, is just thrilling."
Since joining the law faculty in 1989, Shavers has brought a host of civil-rights focused classes to the college. Her course subjects include immigration law, refugee and asylum law, human trafficking, international gender issues and the intersection of gender, race and class.
Shavers was also named the College of Law's associate dean for diversity and inclusion in 2018, putting an official title on the work she's done over many years. She describes her role as creating an environment where each law student can succeed, regardless of their background.
"Part of what I concentrate on is trying to help the law college, and also the university in general, have a diverse and inclusive student body," Shavers said. "That means I get involved as much as I can in recruitment efforts for the law school, trying to make sure when students arrive here they have a good experience."
Creating opportunities for students, Shavers said, is by far the most rewarding part of her job.
"My hope is that individual students look back and think that I've touched their lives in some positive or meaningful way," Shavers said. "When it was announced that I was going to be acting dean, I heard from former students that I hadn't heard from in a long time, extending their congratulations. Some of them said how helpful I'd been to them when they were here, helping them manage getting through law school. I've run into other alums who focus more on a particular class that I taught. Those kinds of interactions are what make me feel great, and they convince me that I've had a role in fulfilling the dream for others as well as myself."
In her 30-plus years at the University of Nebraska–Lincoln, Shavers has seen campus transform. Still, she looks forward to the work that's being done to make even more future Huskers feel welcome and accepted.
"I think we need to continually ensure that we have a diverse faculty and staff, as well as student population, here at the university," Shavers said. "That can be in a number of different areas, including gender, race and class. We've seen those numbers increase, and now that we have vice chancellor Marco Barker, I think he's going to help us in a great respect to achieve those goals."
Heino, '17, Joins Woods Aitken
21 Jan 2020
Woods Aitken LLP is excited to announce that Kelsey Heino, '17, has recently joined the firm, focusing her practice on labor and employment law.
"Kelsey is an exceptional attorney and had valuable career experience prior to entering law school," said Pam Bourne, '00, a managing partner at Woods Aitken. "She brings a real-world approach to understanding, serving, and representing our clients."
Kelsey worked at a Fortune 500 company as a claims professional prior to entering law school. She received her J.D. cum laude from the University of Nebraska College of Law.
Founded in 1921, Woods Aitken LLP works with clients ranging from individuals and local organizations to regional businesses and national corporations. The firm has offices in Denver, Lincoln, Omaha, and Washington, D.C. Learn more at www.woodsaitken.com.
Hurwitz to Testify during House Committee on Energy and Commerce Hearing
08 Jan 2020
Professor Gus Hurwitz will testify as a key witness during the House Committee on Energy & Commerce hearing on Jan. 8 at 9:30 a.m. CT.
During his testimony, Hurwitz, will share his research and discuss "dark patterns." The Committee is defining dark patterns as techniques incorporated in user interfaces designed to encourage or trick users into doing things they might not otherwise do.
Hurwitz's work builds on his background in law, technology, and economics to consider the interface between law and technology and the role of regulation in high-tech industries. He has a particular expertise in telecommunications law and technology, including data- and cybersecurity, and was recognized as a Cyber Security & Data Privacy Trailblazer by the National Law Journal.
In 2017, Hurwitz was named co-director of the College of Law's Space, Cyber, and Telecommunications Law Program, and he currently serves as the director of the NU Governance and Technology Center.
The Subcommittee legislative hearing entitled, "Americans at Risk: Manipulation and Deception in the Digital Age," will be available via livestream or following the hearing at https://youtu.be/I7jXjpFw_ck.
Obituary | Stephen E. Kalish
06 Jan 2020
Professor Emeritus Stephen E. Kalish, 77, died December 18, 2019, at his home in Redmond, Washington, surrounded by his family. He was born in St. Louis, Missouri, and received his B.A., J.D, and LL.M degrees from Harvard University.
Upon graduation from law school, he clerked for Judge L. P. Moore, United States Court of Appeals for the Second Circuit. He practiced law in Los Angeles for a law firm and the Western Center for Law and Poverty before joining the faculty of the University of Nebraska College of Law in 1971 where he taught Legal Process, Legal History, Legal Profession, Corporations, and Advanced Corporations. He also served as the director of the Center for the Teaching and Study of Applied Ethics. While at the College, he served as a Fellow in Law and Humanities at Harvard, a Fellow in Law and Economics at the University of Miami, an academic visitor at the London School of Economics, and a scholar in residence at King's College, London. He retired in 2005 and moved with his wife Suzanne to the Seattle area.
Steve married Suzanne Hoodenpyle in 1971 and was the father of Karen (David) Rigberg of Santa Monica, California; Andrew (Wendy) Kalish of Denver, Colorado; and Daniel (Grace) Kalish of Seattle, Washington, and the grandfather of Sandra and Jonny Rigberg; Manning, Wyatt, and Eva Kalish; and Alex and Sam Kalish. He is also survived by his brothers Lyle (Sue) Kalish and Eugene (Anne) Kalish and his nieces and nephews.
Steve's many interests included bridge, photography, books, bicycling, opera, chamber music, traveling the world with Suzanne, and spirited conversations during which he often took controversial positions to provoke discussion. He had an avid interest in attorney Clarence Darrow and taught a number of courses based on his life.
His life will be celebrated at a gathering at Trilogy Clubhouse in Redmond on Sunday, January 19 at 1 p.m. Donations in his memory may be made to, ACLU, Planned Parenthood, the Southern Poverty Law Center, or the University of Nebraska College of Law.
Pages